8月2日
Welcome to Sunsun Yamashiro!
This time, Yume Ikeda, a junior at Doshisha University, update this blog. I participated to the volunteer for the first time.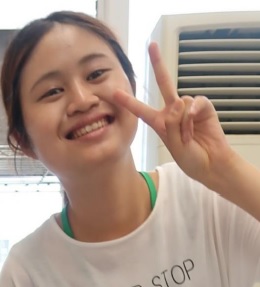 (Yume Ikeda)
At first, I was a bit nervous. However, one of the Deaf members of Sunsun Yamashiro communicated with me in sign language. Moreover, she told me how to express my name in sign language. Thanks to her, I could be relaxed and became more excited.

This month, the students from Setsunan University would come here every Saturday for field work. So, we prepared for it, cooperating with each other.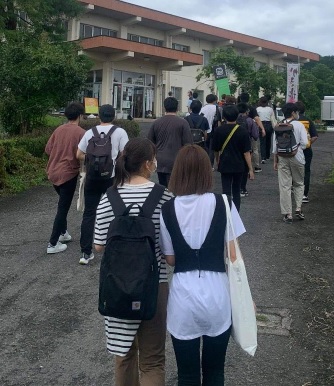 Even before the introduction began, all students are crazy about the booklet of Sunsun Yamashiro.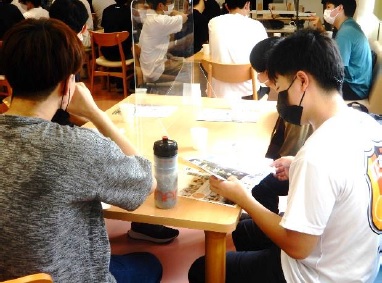 As soon as the introduction and the video of Sunsun Yamashiro started, not only the students but also the teachers were attracted by them. What is more, I was also fascinated by the lecture, taking the pictures of students. I felt it is possible to value each character, work lively, and gain the confident at Sunsun Yamashiro.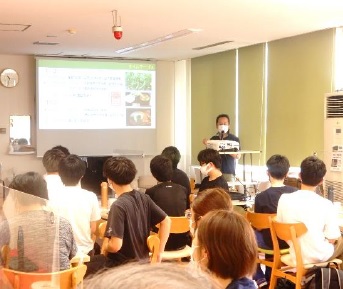 (lecture)
Next, the students experienced making the famous Sunsun Yamashiro's sweets, Koicha Daifuku, which is made from Uji matcha tea.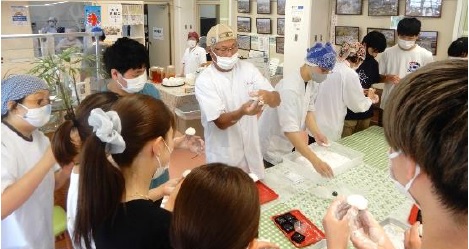 (maiking Daifuku)
What is called Japanese confectionery chefs at Sunsun Yamashiro demonstrated how to make Daifuku. They gave me the Daifuku as well. No sooner than I ate it, I decided to eat it again! The flavor of Macha is so good!!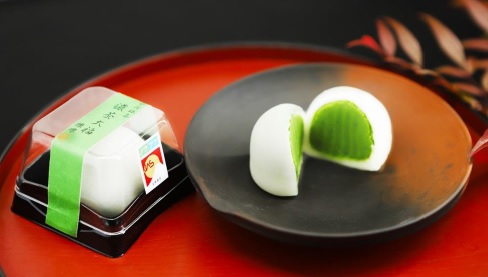 (Koicha Daifuku)
It is so nice for who are the fan of Macha. Moreover, I was impressed by the way which the chefs went through to make this perfect production.
Then, it is the time to eat Sunsun Yamashiro lunch!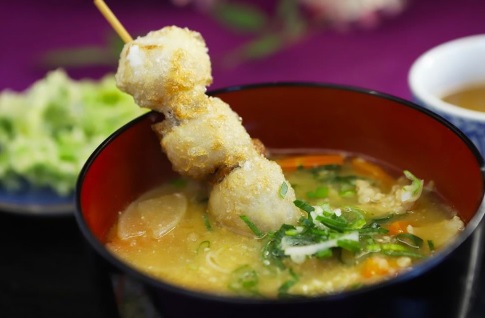 (Kyo Ta Nabe)
Today's lunch is "Kyo Ta Nabe" which is miso soup with Kyoto Ebiimo (Taro), and Ohitashi of Kyoto-Tanabe Nasu (aubergine) and Manganji chile peppers(Japanese sweet chill pepper).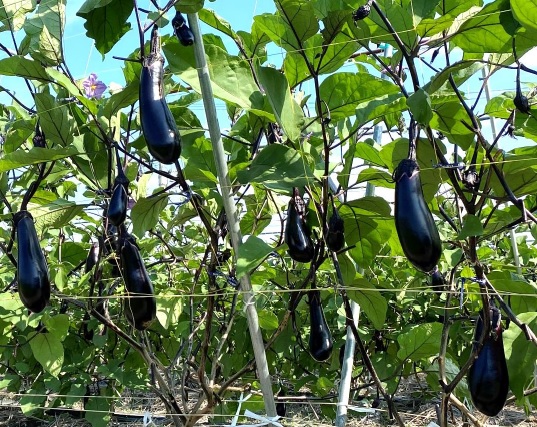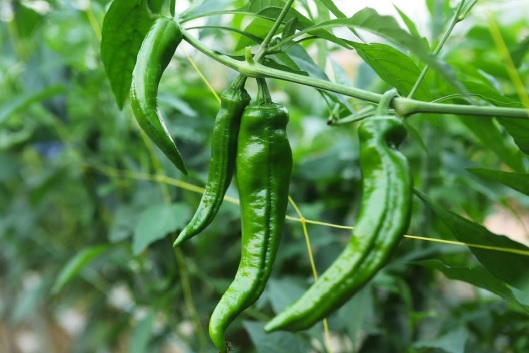 All vegetables are the famous productions of Sansan Yamashiro. I sprinkled lots of Yamashiro's chill, Shichimi (seven flavor chill pepper), on the soup because I love chill. Skewered ebiimo, which was in the miso soup, was soooooo delicious!!! The aubergine was also beautiful, so the students also loved the lunch.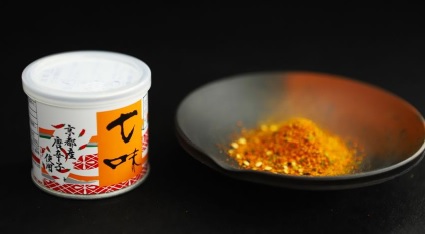 (Kyo-amari Shichimi chili pepper)
After that, I went to the dressing room. The members of Sunsun Yamashiro were eating lunch, having good time there. They welcomed me and told lots of things to me, such as festival in Kyoto. (It is because I am from Aichi prefecture)
After the break time, the students harvested chills.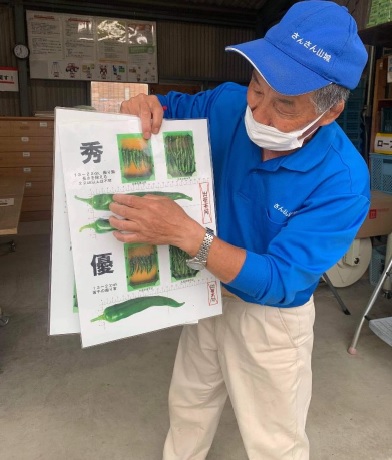 Inside of the plastic hothouse was much hotter than expected. I thought it is impressive to work there.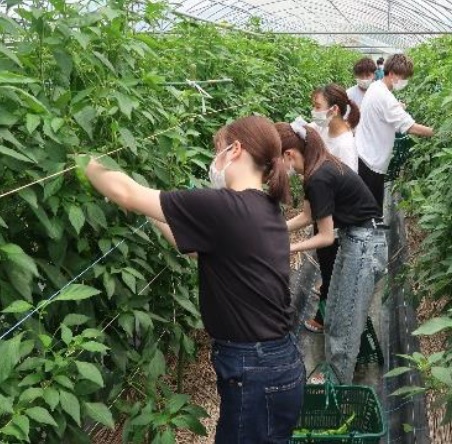 (harvest chili)
After finishing the work, Q&A time was held.
The students became more interested in Sunsun Yamashiro though today's experiences and asked a lot of questions.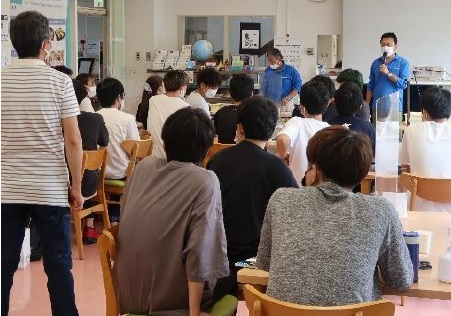 (Q&A)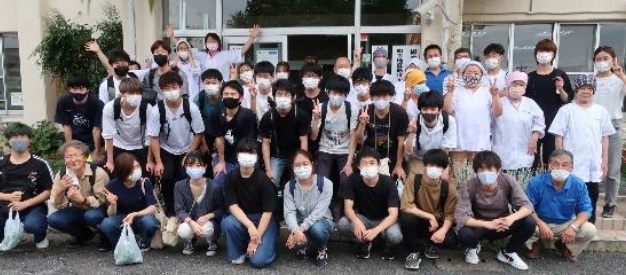 After the students left Sunsun Yamashiro, I spent time with the Deaf people who are in charge of making lunch.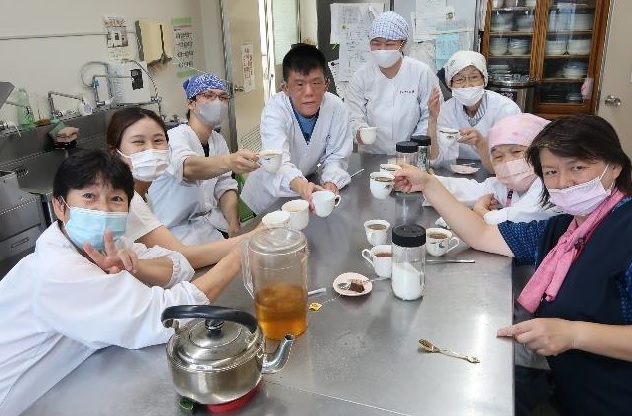 (cheers!)
Everyone welcomed me with smile.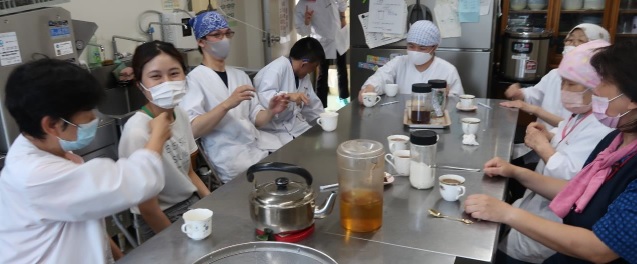 Moreover, everyone was wonderful, and the room was full of laughter.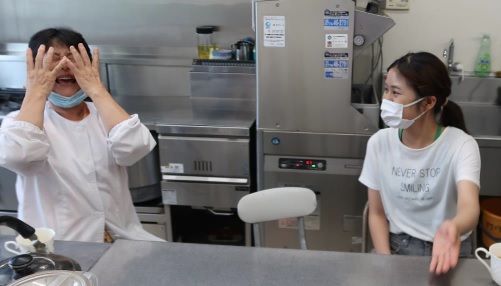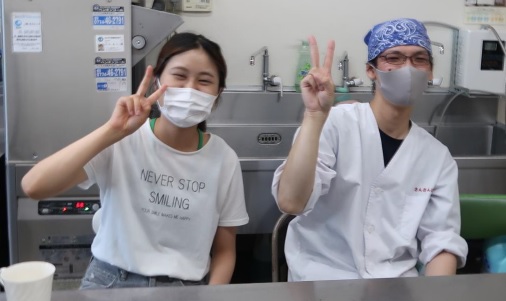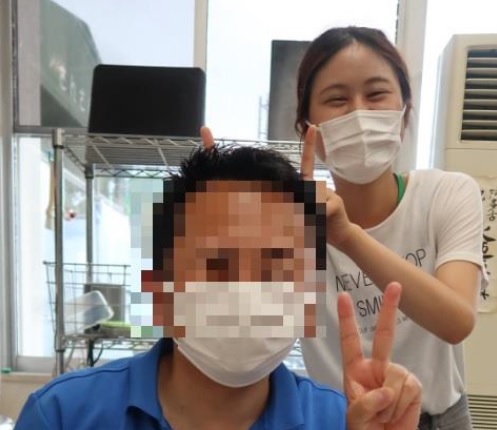 In the today's final meeting, we complimented each effort in sign language.
In addition, some members told me, 'Please come again!' in sign language, which made me even happier.
I could get lots of souvenirs as well.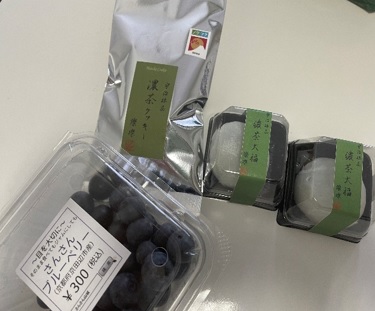 (lovely souvenirs)
Through todays' volunteer, I could learn the diversity of the communication. What is more, I was attracted by the cheerfulness, smile, and warmth of Sun Sun Yamashiro. I am looking forward to joining next time!
Thank you for reading.